At the moment the chess world is seeing an absolute glut of
top class chess
. Magnus Carlsen and Fabiano Caruana starred at the Grand Prix final split between the cities of Sao Paulo and Bilbao, while World Champion Anand disappointed. Finishing just before that was the London GP event where Boris Gelfand showed that his World Championship was no fluke as he came equal first with Mamdyarov and a resurgent Topalov. Going on at the same time was the Karpov tournament in Poikovsky, won by Russian Jakovenko, who is now playing board 1 for his team Ugra in the European Club Cup in Israel. This is an unbelievably strong team event, reminiscent of the big soccer leagues of Europe where home town allegiance is not a prerequisite.
So it is with this in mind that I noticed my birth town of Basingstoke is holding an international event in a couple of weeks time. The
Basingstoke International
is being organised by
e2e4chess
and it might just be the strongest event ever to be held in the vicinity of Basingstoke. So far there are already 4 Grandmasters entered and with live coverage and extensive pgn downloads, this is one event I will be following closely.
For those who don't play chess, the area is lovely. Hook is a village to the east of Basingstoke just on the far side of Old Basing which is itself an ancient village mentioned in the Domesday Book and the site of a battle in 871AD! There are Roman remains throughout the area and an abundance of excellent country pubs!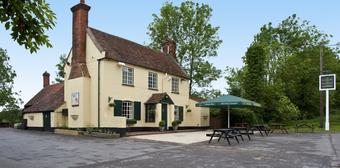 Coach and Horses, Rotherwick
The Fox Inn at Ellisfield


The Mill House, North Warnborough